Radical Self-Compassion and Radiant Resiliency
Online Mindfulness course
Radical Self-Compassion and Radiant Resiliency
This online course is for everyone who wants to boost happiness, reduce anxiety and activate reserves of strength through mindfulness practice.
2 x SUNDAYS 13.00 - 16.00
(VAT added for companies)
Whatever your take on 2020 has been —– we have all been touched by the collective and embodied experiences of the pandemic, the climate crisis, and global social injustices that have shaken us around the world.  Such changes can leave us feeling fatigue, tension, stress and can often bring up old behavioral patterns and belief systems.  Every challenge holds the opportunity to awaken to what matters most in our lives.  The most powerful gift you can share with the world, as we are approaching a new year, is the light of authentic, pure loving-kindness of your own heart.
This course will be taught in two sessions. Radiant Resiliency is a two-day course over two sessions that will help build upon your mindfulness practice whether you are a beginner or experienced.
The course will be intimate in size so there will be lots of opportunity for personal attention in the warm, gentle, open and safe atmosphere. Each class will offer an opportunity to practice together as a group, as well as space to share experiences and ask questions.
Would you like to pay via SWISH or INVOICE?
Email us and let us know you would like to join us.

Benefits of a mindfulness practice
Little things may not bother you as much. You start to notice and experience wonderful coincidences and synchronicities in your daily life. You are able to be more productive and get more done.  You need less of the material things you use to fulfill yourself. Food tastes better!
YOU ARE MORE AWARE OF THE PRESENT MOMENT
Partnerships blossom. Your conversations, friendships and relationships go a little deeper. Even the people you don't like start to seem a little more likeable. You trust your 'gut instinct' more because you can actually hear it or feel it. You could tap into your life's purpose.
Meet the teacher for this course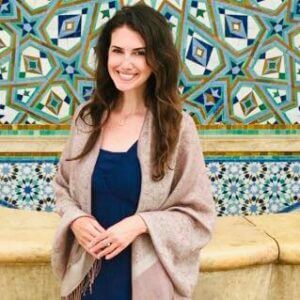 Jamie Watkins, founder of Suniai Mindfulness & Wellness, is passionate about guiding others to create awareness, presence and connection through a holistic lifestyle community. Suniai is a word meaning, "thorough listening," and when we, "learn to listen," deeply, we awaken to our true nature, finding peace and spaciousness in the stillness. Jamie has studied and practiced meditation for over 25 years.
She is a certified mindfulness teacher and completed Jack Kornfield and Tara Brach's Mindfulness Meditation Teacher Certification Program. Jamie is a member of the International Mindfulness Teachers Association and additionally is a certified integrative nutrition health coach from the Institute for Integrative Nutrition. Jamie's approach to holistic wellness includes mindfulness, somatic bodywork, health & nutrition coaching, personal development and spiritual growth.
With a background in special education as an autism specialist and an assistant principal in NYC, Jamie is dedicated to advocacy of fostering and building inclusive communities that provide equity of education for students with disabilities within schools and beyond. She has spoken internationally to non-profit organizations, schools and governments on best practices and the impact of creative arts and mindful leadership in education.
Jamie lives in Brooklyn, New York and is grateful to her mentors and teachers over the years including Sebene Selassie, Deborah Hanekamp and Diane Goldner.