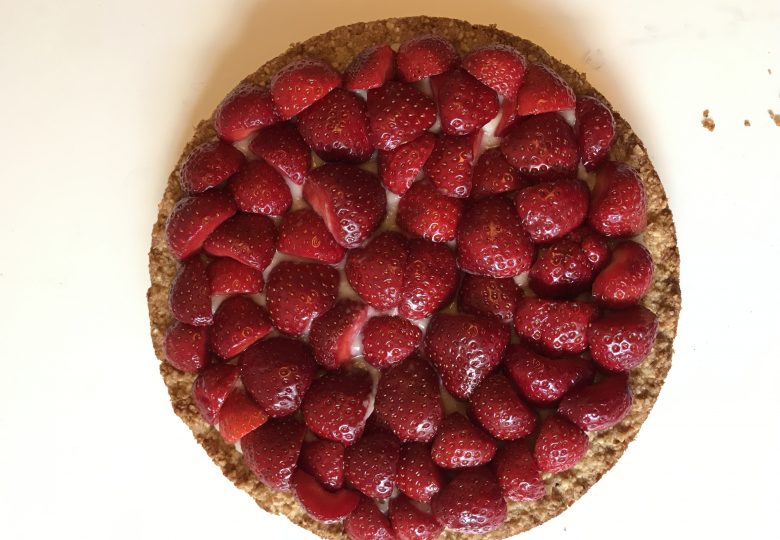 NATIONAL STRAWBERRY DAY
It's difficult to resist a perfectly ripe strawberry, isn't it? In fact, they're one of the most popular berry fruits in the world. One thing I love about living in Sweden, is that there is a National Day to celebrate this amazing berry… This year, June 29th was STRAWBERRY DAY, which I decided deserved a celebratory cake.
GLUTEN-FREE = HAPPY HUSBAND

My husband and I have both switched to a MACROBIOTIC VEGAN lifestyle a year and a half ago, which was life changing and amazing. I am in the process of writing a much longer article about this … stay tuned! To top that off my husband is gluten intolerant, but thankfully I have learned how to substitute many recipes with my homemade OAT FLOUR or ALMOND FLOUR. It can sometimes lead to a less fluffy cake.. but usually works great!
KID APPROVED – MY 4 YEAR OLD LOVES IT!
My 4 year old son, Odin, happens to be going through a very picky eater phase. If he doesn't know it, he will not try it. Luckily, he loves strawberries. So, my challenge is to create a delicious Strawberry Tart without refined sugar, that is VEGAN, GLUTEN-FREE, MACROBIOTIC and ODIN APPROVED.
S-U-C-C-E-S-S!!
After searching through my recipe books for inspiration and adjusting a few ingredients … I did it! And Odin LOVES it. He cleaned his plate and I felt such joy knowing that every bite was nutritious and didn't have loads of ADDED SUGAR!
STRAWBERRY FUN FACTS
STRAWBERRIES ARE THE FIRST FRUIT TO RIPEN EACH SPRING.
THERE ARE 200 SEEDS ON AN AVERAGE STRAWBERRY.
STRAWBERRY PLANTS WILL GROW BACK YEAR AFTER YEAR.
STRAWBERRIES ARE THE ONLY FRUIT TO WEAR THEIR SEEDS ON THE OUTSIDE.
STRAWBERRIES ARE ACTUALLY NOT BERRIES.

(

Technically, Berries should have seeds inside.)
DON'T THROW AWAY THE LEAFY TOPS!

Did you know it's not just the sweet red part that's good for us? The leafy tops and stems have many health benefits. Atop each juicy strawberry is a leafy top, called the calyx.
The strawberry leaves and stems are high in vitamin c, iron, and calcium. The strawberry leaves also contain tannins, which helps with digestion, nausea, and stomach cramps.
Each year, tons of strawberry tops are discarded and chucked away as waste. But this humble leafy crown is actually edible, and may hold the key to unlocking some exciting health benefits.
HEALTH BENEFITS OF STRAWBERRIES
1. RICH IN ANTIOXIDANTS
Antioxidant-rich foods are important to help protect your cells against the effects of free radicals — harmful molecules produced from pollution, sunlight, smoke and even prolonged exercise. Strawberries are a rich and diverse source of antioxidants. However, what's less well known is that strawberry calyx contains antioxidants too. "One study, which looked at the fruits and leaves of blackberries, strawberries, and raspberries, found the leaves have a high ORAC value (a measure of the antioxidant capacity of different foods). However it's important to note that as leaves become older, the ORAC value decreases, so the leaves of fresh strawberries are likely to provide the highest antioxidant value.
2. BOOST THE IMMUNE SYSTEM
Adding strawberries to your shopping basket will help support your immune system too. Not only is the whole strawberry rich in plant antioxidants, but the red fleshy part is also extremely rich in the antioxidant vitamin C. "In fact, eating just eight strawberries (80g) can provide as much as 115% of your daily vitamin C intake. Many associate oranges with vitamin C, but strawberries are actually a higher source per 100g.
3. REGULATE BLOOD SUGAR
Next time you're thinking of pasta for dinner, try following up your meal with a bowl of fresh strawberries. Research suggests eating strawberries, alongside a carbohydrate-rich meal, may help to reduce spikes in blood sugar and insulin levels. Improving blood sugar control and insulin sensitivity can be helpful for preventing metabolic syndrome and type 2 diabetes. While it's not clear why strawberries may have this blood sugar balancing effect, some studies have suggested that it may be down to their rich content of polyphenols (antioxidants), which may influence carbohydrate digestion and absorption.
4. ANTI-MICROBAL
As well as being delicious to eat, strawberries could also have a beneficial effect on the reproduction of bacteria and parasites in the body. One study analyzed the tops and leaves of 200 strawberry plants, and found their large and diverse range of polyphenols are defensive against harmful microbes, and may even have benefit to human health. While these results are certainly exciting, much more research into strawberry leaf polyphenols in relation to human health is required.
5. HEALTHY HEART
Numerous studies have found an association between strawberry consumption and improved cardiovascular health. It appears their high content of berry anthocyanins may play a role in reducing inflammation and oxidative stress, blood pressure, and even improving our cholesterol profile.
While it's too early to state if strawberry calyx can actually lower blood pressure, one promising study showed potential vasodilatory [widening of blood vessels] effects. The study used water extracts of the strawberry leaf and showed an improvement in blood flow within isolated animal aortic rings.
6. WEIGHT LOSS
Strawberries are one of the most guilt-free snacks going; they can satisfy a sweet craving, yet are surprisingly low in sugar and calories. With just 6g of sugar and 33 calories per 100g, they can provide the sweet fix we desire while keeping our waistlines trim. For an even more indulgent option, try dipping strawberries into antioxidant-rich dark chocolate and coconut flakes!
Easy ways to include more strawberries (and their tops!) in your diet:
Add both to smoothies.

Make strawberry leaf tea using the stalks and leaves. Leave both to brew for a few minutes in boiling water.

Create your own salad dressing by soaking the berries, including the tops, in balsamic vinegar for at least 48 hours.

Infuse your drinking water by dropping sliced strawberries and their leaves into your jug or bottle.

Whizz up your strawberries in a blender to create a compote that can be used as a breakfast topping.
VEGAN STRAWBERRY SUMMER TART
Finally, here is the recipe for my Vegan, Gluten-Free, Macrobiotic, Kid-Approved Summer Strawberry Tart…
Don't forget the secret ingredient.. LOVE. Preparing your tart mindfully and with a loving intention, will be joyful for YOU and felt by all of those who are lucky enough to taste your masterpiece.
Note: You can also use dates as a sweetener! Simply substitute 1 DL of pitted dates for the sweetener, chop it in the food processor along with the oil and water, to create a creamy paste. This may require more water, keep adding water until you can form into a ball.
ENJOY!!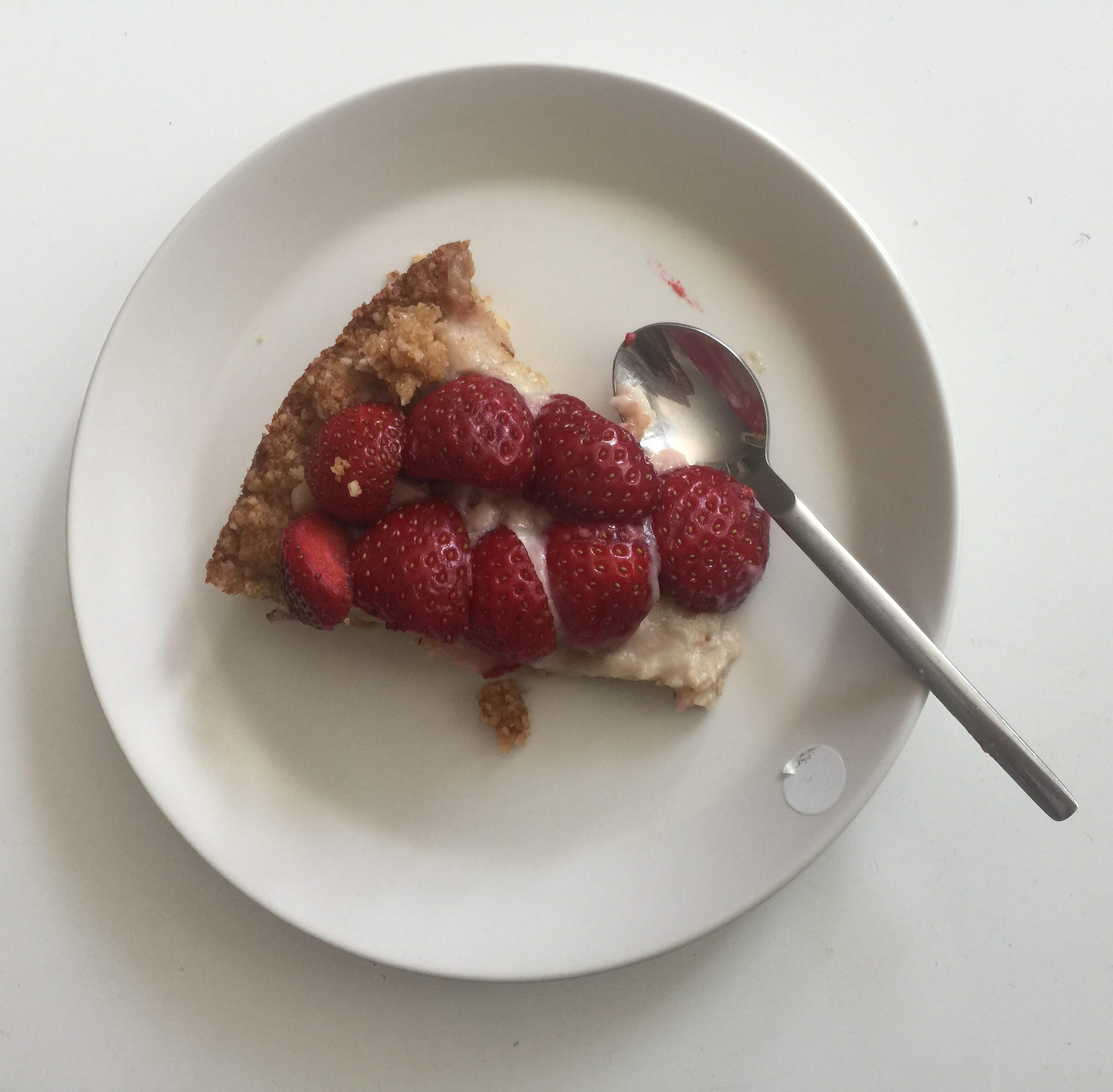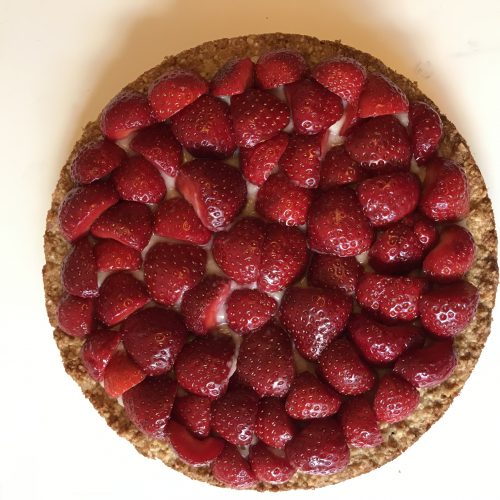 Print Recipe
Vegan Strawberry Tart
Delicious Strawberry Summer Tart : Vegan, Gluten-free, No Refined Sugar, Kid Approved. Delicious!
Ingredients
For the Crust
300

g

Oat Flour

150

g

Almonds

130

ml

Deodorized Sunflower Oil

(or Canola Oil)

1/2

tsp

Baking Powder

1/4

tsp

Sea Salt

Unrefined

75

ml

Brown Rice Syrup

(Agave or Honey or Maple Syrup)

Zest

of 1 Lemon

1 1/2

tbsp

Cold Water
For the Filling
300

g

Strawberries

(halved)

2

tbsp

Brown Rice Syrup
For the Cream
300

ml

Oat Milk

(or Soy Milk)

80

ml

Brown Rice Syrup

(or Honey or Maple Syrup)

1/2

tsp

Agar Agar Powder

(1 tbsp Agar Agar Flakes)

1

tsp

Vanilla Beans

(or Vanilla Essence)

Zest

of 1 Lemon

Pinch

Sea Salt

(unrefined)

2

tbsp

Arrowroot
Instructions
TO MAKE THE CREAM
In a small saucepan, combine the oat milk, agar agar powder, vanilla bean, lemon zest and sea salt. Wisp together and bring to a boil. Continue to stir and lower the heat to keep it at a low simmer for 7 minutes. Add the brown rice syrup (honey, agave or maple syrup also work) and mix well.

In a separate bowl, mix together the arrowroot with a small amount of water. (Enough to dissolve the arrowroot.) Add the arrowroot mixture to the warm milk mixture, continuously mixing . Cook for 30 seconds, and then remove from the heat.

Pour into a bowl and allow the mixture to cool. Refrigerate the cream and allow to set.

Once the mixture is cold, whip it with a spoon or electric mixer until it is creamy and smooth and ready to pour into your prepared crust.
TO MAKE THE CRUST
Grind the almonds in your food processor.

Sift the oat flour, sea salt, and baking powder into a mixing bowl. (I make my own OAT FLOUR by blending oats in my vitamix)

Add the almonds and lemon zest and mix thoroughly.

Slowly add in the oil, cutting and mixing with a fork or a knife.

Finally, slowly add the cold water (adjust the amount depending on the quality of your dough) and work it all together using your hands until you have a dough that can hold the shape of a ball.

Cover and place in the refrigerator for 30 minutes.

Oil a round, 24 cm pie dish.

Preheat the oven to 175 degrees centigrade.

Place the dough into the oiled pie dish and flatten to fill up the entire dish and lift up the edges to form a decorative crust. With a fork or a knife, stab several holes in the dough.

Bake in the hot oven for 18-20 minutes. After baking allow to cool thoroughly.
ASSEMBLE THE TART
Spread a thick layer of cream onto the crust.

Rinse the strawberries and then cut the tops off. (Don't throw them away! See above.)

Slice the strawberries in half and then arrange them in a pattern over the cream. Warm up the brown rice syrup, and carefully brush onto the strawberries to give them a shiny glazed coating.

Refrigerate before eating. Store in the refrigerator and enjoy for up to three days.